As threatened, new fatherhood has sapped my time and energy to the point that I am barely able to rant and rave effectively. I have no doubt that this will change as my son gains maturity and I gain perspective, but for now my updates will be succinct (which is a nice way of saying that they'll be really short).
First, as I'm sure you know, President Obama is at long last finished with attempting to compromise with conservatives who would gladly push him into a wood chipper if they could get away with it. The president is moving forward on immigration reform, joined by a few Republicans who insist that they never ever referred to a pathway to citizenship as "amnesty." Of course, we could have had all this progress years ago, but as I've written before, some people always need to scream and fight and threaten to overthrow the government before we just go ahead and adopt the progressive idea. I have no idea why this is the route to reform, but it just is.
Second, I noticed that my infant son is part of yet another growing trend. Apparently, the state he was born in (California) now has more Latinos than white people for the first time since statehood. This was a surprise to some.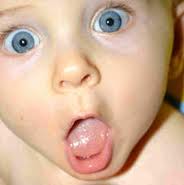 This news came out just about the time my son was born. Is it coincidence, or was he the tipping point?
What do you think?