In this great melting pot we call America, people of every race commingle and socialize routinely. Why, you can't walk down the street without elbowing groups of hotties representing both genders and every ethnicity, all hanging out and being so very cosmopolitan and twenty-first century.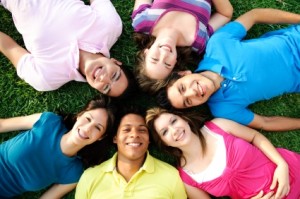 Wait, that's not real life. That's a Gap ad.
In actuality, a recent study has found that about "40 percent of whites and 25 percent of non-whites do not have any close friends of other races."
This means that large segments of American society still view other races as an exotic other. Specifically, the survey found that older, white, conservative women were the least likely to hang with someone who didn't resemble them, while "younger Americans were more likely to say they have friends — or romances — outside their own racial group." Also people on the West Coast "had the most diverse relationships while people in the South had the least."
Yes, even in this mythical post-racial environment, a lot of us prefer to kick back with our own kind, if you get my racially coded drift.
But wait, the poll also found that "Hispanics were the most likely to have a diverse friendship network." So once again, it's Latinos who are on the cutting edge of culture.
Apparently, we will drink with anybody.