We are now approximately 1% of the way through the Trump presidency. That means, mathematically, it will only get 100 times worse.
To be fair, things are actually going great… for white nationalists and people who think immigrants are plotting to kill them in their sleep.
For the rest of us, not so much.
You see, the start of the Trump era is, by many accounts, "the most alarming in the history of the American presidency."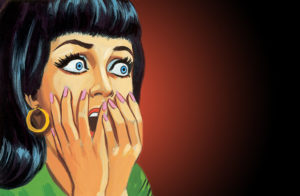 The rate of Trump's grotesque actions outpaces our ability to react to them. Are we really supposed to call our congressional representatives and organize protest marches and boycott companies and sign petitions every single day?
Hell, we barely have time to unboggle our eyes and force our slackened jaws shut before another monstrous executive order comes washing over the American landscape. The best we can manage most days is to force down our vomit.
But here's one thought that will keep us focused. One inescapable truism that we should keep in mind at all times.
And it is simply this: Trump means everything he says.
All the talk about whether we should take him literally but not seriously, or vice versa, was overcomplicated nonsense from the start. It should have been apparent long ago that when a wannabe dictator says he's going to do something, he fully intends to do it.
Trump is not capable of metaphor. I doubt the man even knows that word means. I'm serious — the guy boasts about never reading books.
You see, our tiny-fingered, small-minded president does not engage in subtlety, and the only time that he backs off on some of his more egregious pronouncements is when he no longer has any interest in them and/or because they no longer serve a purpose (e.g., prosecuting Hillary Clinton).
Otherwise, he is remarkably consistent.
This does not mean that he will succeed in his endeavors. For example, that fabled wall with Mexico is never going to be built. But this is only because reality will intrude. This barrier might take the form of logistical issues or— it's possible — political resistance.
But he will not stop of his own free will. He will not moderate his views. He will not listen to reason or decency.
I have never understood why any sane person would think otherwise.
For example, some conservative Latinos voted for Trump under the bizarre assumption that he would be more respectful to Hispanics or even compromise on immigration. That idea doesn't look so bright now.
Of course, that's not as bizarre as Middle Eastern immigrants who just assumed his talk of banning them was, I don't know, some oddball banter from a kooky billionaire.
Heed their regret. And please remember this for the next four years. He means everything that he says.
That makes it even scarier, doesn't it?