Not to boast, but Latinos are the most tech-savvy demographic. We are more likely to be early adopters, own a smartphone, watch videos online, and engage in social media than other groups.
Basically, if there is an electronic gadget that flashes, whirrs, buzzes, whistles, or just lights up, we are there.
But as a recent report showed, we're not so good at actually creating the gadgets in the first place. Diversity is a serious problem in Silicon Valley, and Latinos are underrepresented when it comes to developing new technology.
At the largest tech firms, Hispanic representation rarely cracks single digits, and it never comes close to being proportional to the Latino share of the population. Many tech industry leaders fear that innovation will suffer because so few ethnic minorities — including Latinos — are becoming programmers, engineers and entrepreneurs.
This means that in a nightmarish scenario to horrible to comprehend, developing Back to the Future-style hoverboards will never happen.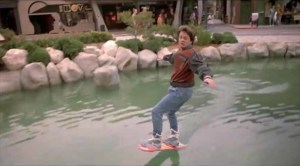 Why is this? It's because we're sucking at the stem. Or rather, we're sucking at STEM (Science, Technology, Engineering, Math). You see, the number of STEM jobs significantly outpaces the number of people qualified for those jobs. Latinos account for about 17% of the U.S. population but only 7% of the nation's STEM workers. Hispanics will make up more of the labor pool in the future, so you can see the problem. I mean, do the math…
Oh, wait. Maybe you can't do the math, because you're not into STEM. Damn, this is ironic… and awkward.
Well, you'll just have to trust me.