Right around Christmas, President Obama freaked everybody out by announcing that we are normalizing relations with Cuba. That's right — Cuba, the home of this guy.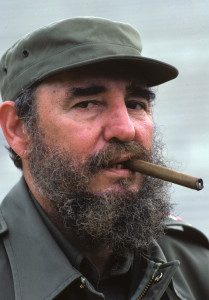 It's not like we're going to be all buddy-buddy now. I mean, who does Cuba think it is? Our real friends are places like Vietnam, where we fought a long, bloody war that killed thousands of Americans for nothing. And then there is Saudi Arabia, which isn't hostile or repressive or hosting tons of people who would love to slit our collective throats — nope, not our good allies.
It's Cuba that has vexed multiple presidents, tantalized us with its proximity yet unapproachable nature, and provided the storyline for at least one X-men adventure. And now the United States will begin discussions with the nation to re-establish diplomatic relations. America plans to re-open an embassy in Havana, and the Obama administration will allow some travel and trade that had been banned under the decades-long embargo.
The move is hugely popular with Latinos. In fact, 75% of Hispanics support re-establishing diplomatic ties with Cuba, compared with 64% of Americans overall.
But some Latinos, especially Cuban exiles, are infuriated. These are the people who fled Castro's regime and took enough cash with them to set up a staunchly conservative community in Florida. For as long as I've been alive, Cuban natives have been the one subgroup of Hispanics who vote Republican.
So when Obama announced his decision, the predictable protests erupted in Florida. Senator Rubio declared that we were coddling dictators, and to hear some people talk, we would all be legally required to wear those annoying, pretentious Che Guevara t-shirts six days a week.
However, there's something funny about Florida's Cuban American community. Yes, polls show that 53% of Cuban immigrants oppose Obama's plan, which I think is actually low. But there is a clear generational split, because 64% of U.S.-born Cuban Americans support Obama's policy. That means almost two-thirds of the Cuban Americans who were born here — and who have little or no direct experience with Cold War politics — are saying, "It's been half a century, so give it a rest."
Of course, the older generation is aghast at this. They had Castro on the ropes… in that he is ancient and will soon die peacefully in his bed. But still, we just needed to give the embargo a little more time! Another decade or two would do it.
Leave it to the younger Hispanics, the ones born and raised in America, who are willing and eager to change the failed policies of the past. If they hurry, they might make it to Cuba and see the authenticity of their homeland before Starbucks moves in.
Here's hoping.