Don't tell me about Oktoberfest.
I'll tell you about Oktoberfest.
You see, I'm from Wisconsin (specifically, Milwaukee, as I've written about). And because I hail from a city that is synonymous with beer and a state that is awash in Germanic culture… well, let's just say that I've partaken a few times in the festivities.
Hint: When you're drinking from the glass boot with your friends, avoid gulping the heel. It just bubbles up in your face.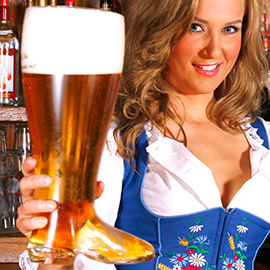 Of course, the tradition of Oktoberfest has spread across America.
Hey, just yesterday, I saw a dozen people dressed in lederhosen, sprinting down the street outside my apartment, in some kind of bizarre footrace for beer. And I live in Los Angeles, far better known for its Latino, Asian, and Armenian influences than its German ones.
In any case, Oktoberfest has become Americanized, just like — yes, it's true — Cinco de Mayo and Día de los Muertos.
The difference is that there is no movement to sever Oktoberfest from its Germanic roots. And nobody views Oktoberfest as an affront to American values, or complains that everything was fine until those damn Bavarians showed up.
You get the picture.
For some mystical reason, it is fine — even glorious — to celebrate Oktoberfest or St. Patrick's Day. And there will be no political backlash.
Cinco de Mayo and Día de los Muertos, however, are likely to get at least a few people all huffy.
When we acknowledge Germanic and Irish culture, no one claims that doing so "divides us" or undermines the quest for a colorblind society (whatever that means) or somehow cheapens the label of "American" because we've put "German" or "Irish" in front of it.
This is not the case with any holiday that has committed the grievous sin of having a Spanish name.
Well, I'm sure it's simply an unfortunate coincidence.
So let's all just relax and have a beer.