I recently saw the movie Whiplash, which was a gripping look at the price of greatness. For those who haven't seen the flick, it's about a teenager jazz drummer obsessed with becoming a legendary artist.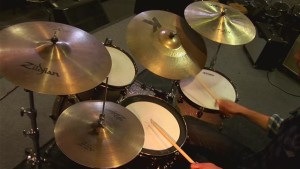 Now, most of us are not willing to practice an instrument until our hands literally bleed, as the Whiplash protagonist does. But the good news is that you may not have to.
You see, a recent study showed that taking music lessons — just basic chord progressions, strumming skills and the like — greatly improves people's language and reading skills.
Even more interesting is that the research was conducted on at-risk, low-income children, most of them Latino.
The researchers believe that the experience of making music creates a more efficient brain that helps a person learn and communicate better. But the study implies that at least two years of lessons are required before improvements kick in.
So what does this mean for Hispanic kids, who often live in disadvantaged areas? Well, it implies that investing in music education may help Latino children improve their learning skills and close the educational gap between Hispanics and other ethnic groups. The results also imply that for low-income students, music lessons can be as important as traditional classes in math and reading.
Because music is a key part of Latino culture, programs that offer music education will find a receptive audience in Hispanic kids. After all, I could not have been the only Latino kid who grew up on a steady diet of Santana and Julio Jaramillo. And that's not even getting into all the salsa, rock, hip hop, and stray bits of classic country that finds its way into Latino homes.
Basically, we like to listen to a lot of music, so it should be a natural extension to get Hispanic kids to learn how to play it.
This research aligns with another recent study, which found that bilingual kids have more flexible brains and better cognitive abilities. Keep in mind that most of the demand for Spanish-language immersion schools is coming from white families who want their kids to master another language and gain exposure to diversity.
So it might not be long before you peek into a classroom and see a bunch of multiethnic kids speaking Spanish and jamming on blues standards.
Rock on.