One of the most riveting stories I've read this year is the Washington Post article about Melanie Austin. She's the Trump supporter who has, shall we say, some rather colorful views of the world.
OK, the woman is fucking nuts.
Austin believes that President Obama is a Muslim who is secretly gay, and "that Michelle Obama could be a man, and that the Obama children were possibly kidnapped from a family now searching for them." Also, Austin thinks that Hillary Clinton is a founder of Isis, and "U.S. Supreme Court Justice Antonin Scalia may have been murdered in a White House plot involving a prostitute and a pillow."
By the way, Austin is on anti-anxiety medication and was once "involuntarily hospitalized for several weeks" because of a psychotic breakdown.
Now, there are legitimate questions over whether the Washington Post story is morally repugnant. After all, one could argue that the reporter took advantage of a mentally ill person who had no idea how she would be portrayed.
And there is also the valid point that the article paints all Trump supporters as deranged and pathetic, and therefore constitutes a form of libelous yellow journalism.
Those are intriguing arguments, but what I find more interesting is the default mechanism for how Austin and other members of the white working class (WWC) are presented in the media.
She is, for the most part, portrayed as a victim. Even liberals have rushed to push aside her reprehensible, bigoted, and insane statements, in favor of asking, "What did Melanie Austin do to warrant this type of treatment by a national newspaper?" After all, she is a "woman who has suffered so much in her life."
This is part of larger trend. As a member of the white working class, Austin has the cultural advantage of instilling sympathy for her plight. Other poor people — such as African Americans and Latinos — are more likely to provoke contempt, or even outright hostility and blame for somehow causing the degradation of the WWC and, by extension, America itself.
We see this in the descriptions of the white working class, a subset of Americans that have struggled for generations.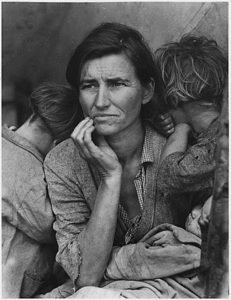 Most media accounts are careful to avoid stating that poor white people have failed to keep up with a changing world. Rather, these individuals have cruelly been left behind (note the passive voice).
They are not angry and rage-filled. Rather, they are shell-shocked and forced to endure "the collapse of a whole way of life."
They are not embracing Trump for his xenophobic bile. Rather, they just feel "isolated and disillusioned," and have made an honest mistake in following him.
The point is clear. The WWC may be supporting the vilest presidential candidate in U.S. history, and they often spew horrific statements and even engage in overt violence. But deep down, they are salt-of-the-earth types who just got a bad deal. Have a little compassion for them.
Why is this? Well, for starters, members of the mainstream media can simply relate better to white people — even poor ones far removed from their elite journalistic circles. In fact, some journalists come from such a background, while reporters who hail from, say, Compton or East LA are fairly rare.
But it's also because our default setting for empathy and compassion still centers on white people. They remain our cultural mainstays, and the central figures in our stories and the stand-ins for our national moods. To date, the white experience has been synonymous with the American experience.
However, we are living in a new era, and as such, a natural question arises when we think about the WWC who are supporting Trump.
And that question is an offensive one, but here it is: Why should we feel sorry for them?
I will address that question in my next post.