By now, you've seen the research that implies Trump voters were more motivated by racism than… well, by anything else when it came to casting their ballots.
We can certainly debate the root causes of Trumpism, and it's unlikely that historians will ever agree on one concrete reason for the election of man who sounds more like an intelligible dementia sufferer than a sitting president.
Think of all the variables — from the Comey letter to Russian hacking to misogyny to American's perpetual hero worship of celebrity. All are plausible reasons why destitute people in small towns looked at a smug billionaire with no governing experience and thought, "Hey, why not?"
But two factors seem most salient. The first is a love of authoritarianism, which many studies have pinpointed as the single most common trait of the Trump voter. People with this trait "have little tolerance for deviance. They're highly obedient to strong leaders. They scapegoat outsiders and demand conformity to traditional norms."
Other experts have subdivided this trait into populism, which "is a type of political rhetoric that casts a virtuous people against nefarious elites." Populists also have a "deep mistrust of any group that claims expertise."
However you want to define or dissect it, this all sounds like a hardcore Trump voter. Indeed, I still believe the authoritarian/populism vibe is the primary reason why we have the Orange Menace in the White House. It is also the main reason why his base continues to support him, despite the glaring lack of accomplishment in his first 100 days. They are, after all, "highly obedient to strong leaders" and don't believe anything that experts (i.e., the mainstream media) tell them about their Great Leader's failures.
But what about that racial thing?
Well, this recent study made the bold claim that "racial attitudes made a bigger difference in electing Trump than authoritarianism." The study's authors state that "we've never seen such a clear correspondence between vote choice and racial perceptions."
Of course, this goes against the common refrain that Trump voters are all salt-of-the-earth types under such economic stress that they tragically fell for a con man's bluster.
Just don't say bigotry had anything to do with it.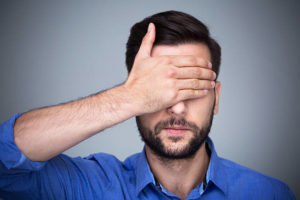 Conservatives embrace this idea because it allows them to believe there is no racism in their movement (and more important, no prejudice within themselves). It also helps them in their quest to dismiss progressives as a bunch of hypersensitive whiners who play the race card nonstop.
And many liberals agree with this because they don't want to appear to be a bunch of hypersensitive whiners who play the race card nonstop. Also, some liberals foolishly believe they can somehow win over extremists if they are just nice enough. Plus, liberals are often just wimps who don't want to be, you know, all rude and shit by calling someone a racist.
However, a significant chunk of Trump's supporters are indeed overt bigots. After all, those Nazis aren't cheering for Elizabeth Warren. And our common sense tells us that many more Trump fans are, at the very least, a bit leery of ethnic minorities.
And as these studies show, the prevalence of bigotry within the Trump movement is not just anecdotal. We have statistics and everything.
"Wait a minute, you lying Latino," says the fervent Trump supporter. "How could America have elected a black president if we're so racist? Huh?"
I'm glad you asked. In my next post, I'll discuss this apparent contradiction.
For now, you'll just have to trust me when I say that there are some very good reasons.