Well, everything is all official and shit, and America has finally gotten the cage match that it has long been clamoring for: a former senator, secretary of state, and first female nominee of a major party versus a short-tempered, short-fingered billionaire who despises everyone who isn't a white male and who casually utters treasonous asides in public.
Yes, it should be a quite entertaining few months.
But before we go into the pros and cons of the respective candidates, let me refer back to my most recent post, in which I pointed out that the Republican Party has a strong pillar of racism propping it up, and that moderate GOPers are in denial about this.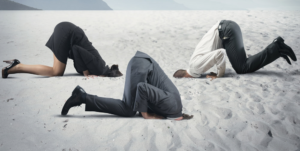 I could point out that the RNC featured any number of speakers making veiled bigoted comments. Or I could mention that one Trump delegate proudly tweeted what the GOP later called a "racially insensitive" term (i.e., the N-word) and that this is fresh proof not only of bigotry but denial.
Note #1: The N-word is not "racially insensitive" or anti-PC. It is as flat-out obscenely racist as it gets. And why do I have to point that out to people?
No, instead I would like to refer to this article, in which a well-known conservative intellectual, Avik Roy, says that as bad as Trump is, the GOP suffers from "a much bigger conservative delusion: They cannot admit that their party's voters are motivated far more by white identity politics than by conservative ideals."
So the guy agrees with me.
Roy goes on to say that the lament of liberals that many conservatives are racist is "an observation that a lot of us on the right genuinely believed wasn't true — which is that conservatism has become, and has been for some time, much more about white identity politics than it has been about conservative political philosophy. I think today, even now, a lot of conservatives have not come to terms with that problem."
No, they have not.
We see it not just in the outright insistence of many conservatives that racism doesn't exist in the GOP — or indeed, in America. We see it in the strange reaction that Trump has provoked in those conservatives who have refused to support him.
I would like to think that many Republicans are taking a stand against bigotry by refusing to vote for Trump, and indeed many of them are. But a disturbing number of Republicans say they are against Trump not because he's a misogynist or hates Muslims or sees every Latino as a potential rapist.
No, they say it's because he is not sufficiently conservative. By this, they mean Trump doesn't despise gays as much as they do, and he once said a few nice words about Planned Parenthood, and he has issues with free trade.
This is so backward and bizarre, so perplexing, that it defies belief. It's sort of like saying you hated Limp Bizket not because their music sucked, but because you didn't care for red baseball caps.
Note #2: Limp Bizket really sucked.
To ignore Trump's racism, in favor of focusing on his conservative bone fides, is yet another example of GOP denial. Maybe these Republicans are happier with the vice presidential nominee, Mike Pence, whose views are just as bigoted but more reliably in the GOP mainstream.
Yeah, that's the direction they should go in. It will all work out great.