I admit that I'm not much of a basketball aficionado. I saw Michael Jordan play once, and that's pretty much my sole anecdote about the NBA.
However, I paid attention when a young boy named Sebastien de la Cruz sang the National Anthem before an NBA final game recently. Apparently, "he was pretty awesome."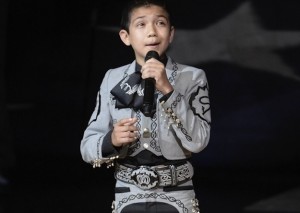 But of course, this is America, and somebody's gotta be offended about something. So plenty of Twitter feeds exploded with outrage that a "Mexican django" (whatever that is) who was "probably illegal" was belting out the Star-Spangled Banner. And those were some of the nicer, less racist comments.
As we all know, the National Anthem only counts as a patriotic song if a white person sings it. Otherwise, it's political correctness run rampant, or a sign of moral decline, or just plain icky.
Well, Sebastien de la Cruz found out about the controversy he provoked, but he refrained from slamming his attackers (all of whom are faceless cowards who think its edgy to gang up on a young boy via social media). In any case, the Spurs have apparently asked him to return for an encore.
The kid showed a lot of class, and since he has declared himself a Spurs fan, I've decided that I'm rooting for them too.
It's not like I know who else is playing, anyway.