OK, so Season of the Witch is apparently not a runaway blockbuster. That doesn't mean I've soured on giving out freebies to you, as thanks for reading my posts.
As such, I'm happy to announce a new contest. And this one is much more Latino-relevant.
The gifted writer Raul Ramos y Sanchez has a new novel coming out. It's called House Divided, and it's an epic about a Latino family.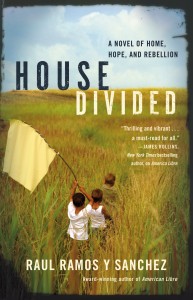 Readers who comment on any my posts will be entered for a chance to win a copy of both House Divided and his earlier novel, America Libre.
Raul Ramos y Sanchez is an amazing writer and, I'm pleased to report, an occasional commentator on my posts. So I'm thrilled to promote his work and get more people to read him.
And as opposed to my last giveaway, this contest is open to everyone, not just lucky individuals in select cities. I don't even have to like your comment; just post a response to any of my articles, and you're entered in the drawing.
I will announce the winner of both books during the week of January 24. So let's get those comments going, and good luck.