So we're plummeting headlong into 2012, the supposed year when all of us will meet a fiery end because my Mayan ancestors made a creepy prediction centuries ago (actually, they did no such thing, but that's another story).
If we're all going to succumb this year, we might as well have fun. So I'm happy to announce another contest for movie tickets.
The movie in question is Contraband, a new thriller staring Mark Wahlberg.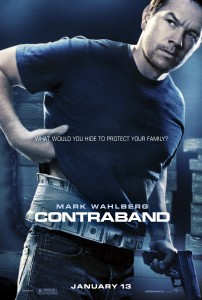 What's it about? Well, apparently Wahlberg is a former smuggler who is forced to get back into the business to save his family. He runs contraband and journeys to Panama to settle his brother's debt before his son and wife are targeted by both the cops and hit men.
And I'm assuming there's a car chase in there somewhere.
In any case, I will be giving out tickets to readers in one or more of the following cities:
Chicago
Dallas
Houston
Los Angeles
Miami
New York City
Phoenix
San Antonio
San Diego
All you have to do is comment on one of my posts (including this one) and you'll be entered for the chance to win free passes to the film. Once again, your comment can be about anything, and if you're stumped, just tell us your favorite Mark Wahlberg movie (personally, I'm going with The Departed).
The only thing you have to include in your comment is the city in which you intend to see the movie, so I can plan accordingly.
If you win, I'll email the passes to you. By the way, I'm the sole person who will see your email addresses (unless you specifically want to share it in the body of your comment), so don't worry about that.
I'll announce the contest winners in the next week or so.
Until then, take Mark Wahlberg's advice, and try to refrain from smuggling anything.
Happy New Year.