Recently, I wrote about the Pew Research Center's finding that, over the last decade, 2.5 million Latinos changed their racial classification to white. Now this development has caused consternation, rejoicing, or befuddlement, depending upon your perspective.
It's important to keep in mind, however, that the whole concept of race "is a construct. Its meaning throughout history has had no basis in biological reality but rather in social domination and political contention."
As we all know, racial classifications have no anthropological basis. So the people who say there is only one race (the human race) are correct, strictly speaking.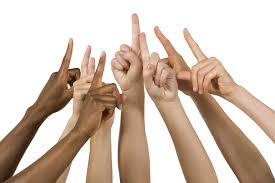 However, for something so arbitrary and minor, race sure causes a lot of controversy. Exacerbating this issue is the fact that the U.S. Census Bureau has always perplexed people with its separation of race and ethnicity, particularly when it comes to Hispanics.
As such, many commentators have argued that a lot of those 2.5 Latinos who changed their race "may not consider themselves white. Many or even most might identify their race as 'Hispanic' if it were an explicit option."
Indeed, we have to consider that "the confusion on the U.S. Census has little to do with evolving ideas about race among Latinos and a lot to do with the limited options available to Latinos." As such, this is just "more evidence of Americans' puzzlement about how the census asks separately about race and ethnicity."
In essence, when it comes to the census, "Hispanics can be at once a race and not a race."
It's all very metaphysical, and possibly even a cool discussion if you're high enough. But it also might say something very real about self-identity and cultural legacies.
You see, there is some debate over whether modern-day Hispanics are the sociological decedents of those huddled masses yearning to be free back in the nineteenth and twentieth centuries.
Keep in mind that when Ellis Island was an immigration hotspot, "all sorts of immigrants, including Irish, Jews, and Italians, were once considered irredeemably alien, even racially inferior to 'white' Americans."
This sounds intensely similar to how Latinos are described today in many sections of the country. And yet, the longer a Latino family has been in America, the more likely its members are "to check the 'white' box."
Yes, those Latinos who identify as white are more likely "to be second- and third-generation Hispanics than foreign-born and noncitizen Hispanics."
This lines up with the experience of earlier immigrants. After all, when it comes to the Irish, Italians, and Jews, their fifth-generation descendants don't hesitate "over how to fill out the census. They check 'white' — because that is how the rest of America now sees them."
Again, that may say something very uplifting or truly disturbing about the direction in which Latino culture is headed. Or maybe it's both — or neither.
See how tricky this gets?
But to end on an optimistic note, note that the recent census data has also supplied another "strong sign that fears of a unique 'Hispanic challenge,' where Hispanics immigrants might remain as a permanent Spanish-speaking underclass, are overblown."
In fact, there is mounting evidence that "Hispanics are succeeding in American society at a pace similar to that of prior waves of European immigrants."
And that will continue to be true — whether Latinos are white or not.