The only game I have on my computer is chess, so I can't procrastinate on work by playing Gears of War or Dead Space 2 or some other time killer. Taking a break to play chess isn't such a temptation.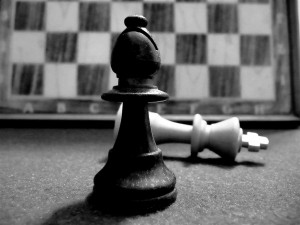 I'm not a bad player, but there is a whole group of kids out here in California who could trounce me faster than you can say, "Bobby Fischer was an anti-Semite."
I'm talking about the state high school chess champions from Mendota, a "Central Valley town of stilled machinery and packinghouses surrounded by industrial agriculture" where "unemployment hovers around 45 percent."
Every player is Hispanic, and the teens come from a poverty-stricken area that is "the kind of place that requires durability just to survive. Out here, even sunlight seems hard."
The team placed first in the Premier Division at the CalChess State Championships, going against kids from rich suburbs and players who had private tutors. So how did this group of Hispanic teens, living in a place where the food bank does booming business, conquer this most intellectual of games?
For starters, "without many chess books or easy access to computers, team members turned to each other — rehashing games, comparing strategies, playing endlessly." They were also coached by "a black man who doesn't speak Spanish. When the 100% Latino team acts up, he yells in French."
Who knows why that tactic works? I guess if someone yelled at me in French that I left my rook hanging, it would get my attention. By the way, the coach is a bit of a redemption story himself, coming across as an African American version of Dennis Hopper's character in Hoosiers, but with knights and pawns instead of basketballs. He says the kids have inspired him.
In turn, the coach "chooses the team's captains, based not on ability but on what they need to learn." This approach at character building seems to have worked. In his nine years of coaching, just two of his players have failed to graduate, astounding in a town where "only one in ten people has a high school diploma."
And this year, the team won the state championship. Indeed, "for people who live in the world of packing houses and field labor, the town's success in a game of intellect and imagination has resonated."
By the way, the kids themselves include the bounced-around foster kid, the insecure teenager, and the overwhelmed immigrant — characters who will only make the feature film version of this all the more poignant.
Of course, if they ever made a movie about the all-Latino chess champions, they would cast half the team with blonde, blue-eyed actors, throw in a car chase, and have the climax feature a player yelling, "Checkmate, bitches!" while a cheerleader jumped into his lap.
I'm pretty sure that didn't happen here.