Back in the 1960s, the great essayist Joseph Mitchell wrote about his awe at seeing murals depicting "animated skeletons mimicking living human beings engaged in many kinds of human activities, mimicking them and mocking them… I was astonished by these pictures."
He was describing, of course, the imagery of Día De Los Muertos. In Mitchell's era, the Latin American holiday was exotic and largely unknown to US readers, and he was performing his writerly duty of passing along intriguing cultural information to his audience.
Today, we all are familiar with Día De Los Muertos — the white face paint on celebrants, the ubiquitous illustrations of grinning skulls, the small panoramas of skeleton musicians and dancers.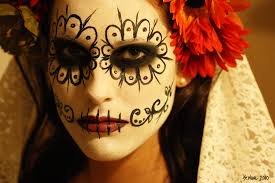 However, there is still great confusion in America about what this holiday actually signifies. Although it takes place at the same time of year as Halloween and shares the theme of ghostly visitors, there are fundamental differences.