For a culture steeped in Catholic fatalism — and with a history that includes everything from racial discrimination to economic injustice to death squads — Hispanics sure are an optimistic bunch. I've written before about this weird tendency to be positive in the face of disaster. But now I have scientific proof for it.
A recent study says that people who speak Spanish tend to express themselves in a more positive way than speakers of other languages do. The researchers found that "the selection of positive words was greatest among Spanish-speakers" and that those words tend to be "learned more easily, used more frequently and are considered more meaningful." In addition, overall communication among Spanish-speakers tended to be more positive, and the emotional content of the Spanish language was the highest among the languages studied.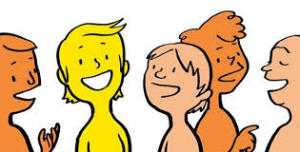 Basically, a conversation in Spanish is more optimistic and heartfelt than it would be in English, even if the content is exactly the same. And you don't even want to know how much more upbeat Spanish is in comparison to German or Arabic (the alpha and omega of harsh languages).
But it's not all good news for Hispanics. And here I am part of the problem. I've been honest about my struggles with Spanish, and I consider myself passable at the language, at best.
Well, another study has shown that, sure enough, each successive generation of Latinos is less proficient in Spanish. While 92% of the second generation (children of immigrants, like me) speak English very well, only 82% are even conversational in Spanish. By the third generation, nearly 100% of Latinos speak English very well, but only 17% speak Spanish fluently.
So all that optimism will fade away if we don't teach kids Spanish. Now that's a pessimistic thought.