Few demographics are more environmentally conscious than Latinos. I mean, we are more likely to lead green lifestyles, buy green products and support efforts to fight climate change. And on a personal note, let me remind you that I was once a Boy Scout, and I can still start a fire without using matches… probably.
Anyway, the point is that we really love nature. So maybe it's not a big surprise that Latinos are also taking the lead in creating new national landmarks and preserving natural spaces.
When President Obama declared part of the San Gabriel Mountains in Southern California to be a national monument, it was with the hearty support of Latinos. Polls showed that almost 90% of local Hispanics supported the San Gabriel Mountains designation. You can't get 90% of Hispanics to agree that salsa is better than ketchup. But when it comes to nature, we're overwhelming in our agreement.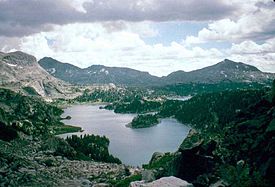 Yes, there are even organizations like Latinos Outdoors, Green Latinos, and HECHO (Hispanics Enjoying Camping, Hunting and the Outdoors), and they have worked for the protection of areas like the San Gabriel Mountains and the Rio Grande del Norte National Monument in New Mexico.
So why do Hispanics show all the love for mountains and streams and lakes and trees and such? Well, one theory is that our legendary focus on family drives our desire to maintain the environment for future generations. Another is that because we tend to be recent immigrants, or the offspring of recent immigrants, we have more of a connection to the pristine environs of Latin America.
That certainly makes sense. But I also think it's because we're less likely to be right-wing industrial polluters who only care about the bottom line and think climate change is a left-wing conspiracy.
But maybe that's just me.