So my hometown Milwaukee Brewers are bound for the National League Championship Series. And I'm pretty damned happy about that.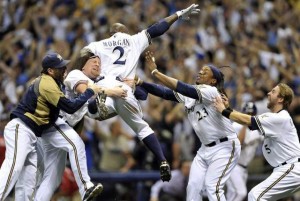 It may be awkward timing, or a little bit of a buzzkill, but I just published an article for Being Latino magazine that is critical of Major League Baseball. You can find it here.
Whatever conclusions you draw from it, however, don't let it distract from rooting for Morgan, Fielder, Braun, and Gallardo. I know I can count on you.