As I am fond of mentioning, I live in beautiful Southern California, where I frequently soak up the sun, hike in the hills, hit the beach, and hobnob with celebrities.
Well, in truth, I have rarely hobnobbed in general, and even fewer times with anyone who could remotely be called a celebrity. But we LA residents do see A-listers out and about on occasion.
Very few of those stars are Hispanic, as I've pointed out before. But now we have statistical evidence that Latinos are not getting their shot at the silver screen.
A new study shows that over the last six years, there has been "no meaningful difference in the representation of characters from underrepresented backgrounds."
Since 2008, the number of Hispanics onscreen rose from 3.3 percent to 4.9 percent. Latinos are about 17% of the American population, so Hispanic representation in film would have to triple to even be close to reflecting reality.
In fact, another study found that there are actually "fewer Latino lead actors in the entertainment industry today than there were seventy years ago." Ouch…
Now is a good time to point out that Hispanics (including me) are avid fans of the cinema. In fact, Latinos bought more than one-quarter of the tickets to movies last year. And we don't even want to get into how much we support certain genres (e.g., horror movies) more than most people.
But there was one positive note in the report. Surprisingly, Hispanic females were more likely to be featured in popular films than were white females or Asian females.
Still, even that comes with a caveat. You see, "Hispanic females were also more likely to be shown either partially or totally nude onscreen than any other race [and] seem to be more hypersexualized than their female counterparts from other groups."
Yes, when it comes to American movies, Latinas are both underrepresented and underdressed.
Of course, the idea that the entertainment industry would objectify a Latina is ludicrous.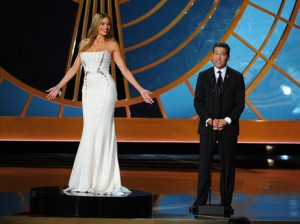 Yup, just plain crazy.