Another Hispanic Heritage Month has ended. Yes, there were lots of mentions of Cesar Chavez, as well as a few other well-known Latinos. But I'm always amazed that one influential Latina is never brought up. I'm talking about La Malinche (1502–1527).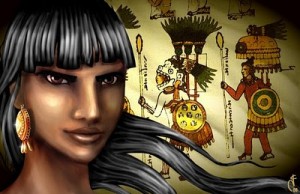 Now, in Mexico, the story of La Malinche is a big deal. The woman's reputation "has been altered over the years according to changing social and political perspectives," and Mexicans think of her as everything from an "evil or scheming temptress" to "the embodiment of treachery, the quintessential victim, or simply as the symbolic mother of the new Mexican people."
But here in America, you are to be forgiven if you've never heard of her. I only encountered her story a few years ago myself. So who was she?