Back in the day, nobody was more intimidating than Ice Cube. Then he entered a mid-career phase of playing the cuddly teddy bear. But recently, he's returned to being the toughest mofo on the block.
You can see his latest incarnation in Ride Along.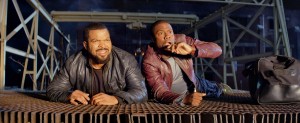 I'm offering you the chance to win passes to a screening of the movie in one of the following cities:
Chicago
Dallas
El Paso
Houston
Los Angeles
Miami
New York City
San Jose
The film is about a fast-talking guy who joins his girlfriend's brother—a hot-tempered cop—to patrol the streets of Atlanta. The guy gets entangled in the officer's latest case, and to prove that he deserves his future bride, he must survive all kinds of hijinks over the next twenty-four hours. John Leguizamo is around to represent la raza.
All you have to do is comment on one of my posts (including this one) about anything you please. Just make sure to tell me what city you plan to see the movie in, so I can allocate the passes.
If you win, I'll email you the tickets. By the way, I won't make your contact info public, so don't worry about that.
I'll announce the contest winners in the next week or so.
If you're lucky enough to win, just remember to tell 'em where you're from.