When you're asked where you're going, wouldn't it be really cool to smirk and say, "To Oblivion"?
Well, that works, if you're actually going to see the movie Oblivion. And you can see it if you win this site's latest contest.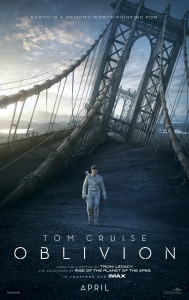 The film stars Tom Cruise as one of the last remaining humans living on a post-apocalyptic Earth. He rescues a beautiful stranger, and pretty soon things get kooky for him. Morgan Freeman is around to lend gravitas.
You can enter for the chance to win passes to a screening in one of the following cities:
Houston
Los Angeles
Miami
New York City
Dallas
All you have to do is comment on one of my posts (including this one) about anything you please. Just make sure to tell me what city you plan to see the movie in, so I can allocate the passes.
If you win, I'll email you the tickets. By the way, I won't make your contact info public, so don't worry about that.
I'll announce the contest winners in the next week or so.
In the meantime, keep prepping for that doomsday scenario. Just in case.