Two facts you probably know about me: I live California, and I am the parent of a toddler.
Those two seemingly unrelated items mingled recently when a measles outbreak hit our state, and much of the blame was placed on New Age hippie Californians who didn't vaccinate their kids.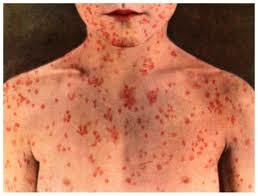 Now, I believe in science and have little patience for religious nutjobs who fear the modern world. Also, I am not down with uber-libertarians who think it's their right to infect other people's kids because of, you know, personal freedom and shit.
So yes, our son is vaccinated.
Of course, as upsetting and infuriating and generally bizarre as the measles outbreak was, there was still room for right-wingers to up the craziness.
And that's how we got Republican politicians and conservative blowhards who blamed the outbreak on undocumented immigrants from Latin America.
To these paranoid minds, it is all those undocumented kids who flooded the border last summer, who were then "just sent out across the country. Many of them had measles."
In fact, none of them had measles. More disturbingly, "in this latest outbreak, measles has actually spread from the United States to Mexico."
Ouch — that's not pretty.
In sum, there is no evidence that undocumented kids are poisoning America. There is, however, plenty of proof that immigrants, particularly Hispanics, continue to be the scapegoat for America's issues.
If only we had a vaccine against xenophobia.