So the 2016 presidential election will come down to Latinos… or millennials… or Latino millennials who live in purple states and have flirted with veganism and have bought at least one Kayne West album. Who really knows?
However, the best predictors we have are that the so-called Trump factor has increased Hispanic voter registration, especially among young Latinos. This would seem to spell doom for the GOP, except that, as many Americans have seemed to forgotten, "Hispanics have historically turned out on election day in lower rates than other groups — a factor compounded by the high percentage of young people, who also vote less frequently than older Americans."
Yes, there's an undeniable appeal to the image of millions of 18-year-old Latinos standing up, saying no to racism, and eagerly casting their ballots against a megalomaniacal billionaire. But it's unlikely to happen in the real world.
Still, Hispanics will have a stronger impact in 2016 than they have previously. For example, some experts say Latino turnout will top 13 million this year, up about 17% from the last presidential election. And this would also represent about a 9% increase in the Latino share of the vote. Those are all good numbers.
Furthermore, "this is bad news for Republicans given that a recent analysis shows that even if 60% of the white electorate votes for the GOP (which hasn't happen since 1988), Trump would still have to get between 42-47% of the Latino vote to win (Mitt Romney received only 27%)."
In addition, "hardline immigration policies and racially charged rhetoric from Republican presidential candidates have all but ensured that Latinos will turn out for Democrats in the general election."
Wow, this thing looks to be over before it's even begun.
But we've seen predictions like this before, especially regarding Latinos. In fact, Hispanics been referred to as a sleeping giant so many times and for so long that perhaps we should create an ethnic flag and make that image our insignia.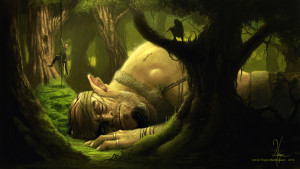 As such, it truly seems that 2016 is time to put up or shut up. Either Latinos are finally going to vote in numbers more indicative of our strength, or we're going to continue leaving the fate of the country to octogenarians who are inexplicably more motivated.
After all, this year we have a bigoted loudmouth insulting us to our faces. What more do we need?