By now, you've heard about President Obama's executive action on immigration. The plan could help as many as 5 million undocumented immigrants avoid deportation. It marks a major development in the ongoing debate over immigration, and millions of Latino families could see their entire lives changed because of the decision.
Republicans, of course, are apocalyptic. It's amnesty, or an impeachable offense, or the downfall of America, or some combination of all those things.
No, they really don't like it.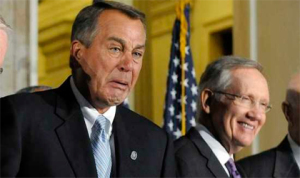 Already, we've heard the GOP say how Hispanics are now going to overrun America and start ethnic cleansing. I'm not exaggerating. This GOP guy thinks it's a possibility.
Now, I've addressed the countless myths, untruths, and slurs that have been hurled at undocumented people over the years. So I'm not going to get into it all over again.
Suffice to say, nobody really knows what effect this decision will have. But it is, as the kids say, a game changer. And it will have very real effects on myriad Latino households.
Of course, if we do start ethnic cleansing, just say that you're a regular reader of mine. I'll put in a good word for you.