Last week, for the second time this month, we had a significant temblor give our house a shake. We live in Los Angeles, so this kind of thing is not unexpected. Our one-year-old son, native Californian that he is, even slept through the last one.
But I've noticed something more than a little off-putting about the nation's reaction to California earthquakes. Message boards and internet commentary usually light with people proclaiming their earnest wish that all of us out here in California, well, just die horrible deaths.
Some of the comments I saw included, "Too bad it wasn't the Big One," and "Waiting for California to slide into the ocean. Goodbye, weirdoes!" and "If only earth would finish the job and slide that festering leftist infection into the depths of the Pacific."
It doesn't seem to work the other way. When tornadoes hit Missouri, I don't see commentators wishing that the entire state be blown away. And when hurricanes hit Florida, there is often an outpouring of goodwill and wishes for those in the storm's path.
But California? Well, I guess we deserve to get swallowed up by the Earth.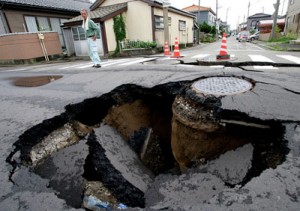 Of course, a lot of the animosity is directed toward our state's undocumented immigrants, which if you believe right-wing media, currently account for 90 percent of the population.
The rest of it seems to be a combination of petty jealousy over our good weather, disdain for Hollywood celebrities, and vitriol aimed at our state's frequently liberal policies.
But regardless of your political viewpoint, I would add that if the thought of thousands, perhaps, millions of your fellow Americans meeting a sudden, violent death is something that fills you with glee or smug satisfaction, then there is very little difference between you and Al Quada.
In any case, we here in California are not pleading for you to stop picking on us. We would just like the haters to acknowledge their irrational anger and stop pretending to love America (while despising its largest state and wishing destruction upon all who live there).
And to be honest, we are concerned about the next big earthquake. We're worried that all of you will drop off into the Atlantic.