I'm old enough to remember when hip-hop first broke through. I'm talking about artists like Grandmaster Flash and the Furious Five, Slick Rick, and Run DMC. And what about Kid Frost, arguably the first Latino rapper?
Of course, I definitely remember the first time I heard NWA. Those guys were fucking terrifying.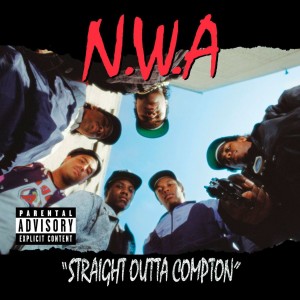 At the time, I had never been to Los Angeles. Now I live here — something I could not have predicted all those years ago. And yes, I have spent a little time in South Central.
Compton today is not the gangsta mecca that is was back in the day. The city still struggles with poverty and unemployment. But crime — especially homicide — has plummeted in recent years.
And for the place that symbolized African American disillusionment, there is some irony in the fact that Latinos now make up about two-thirds of the city.
Does this mean everything got better when Hispanics moved in? Well, that would be an interesting, even bigoted claim to make.
There are, of course, myriad reasons for Compton's improvement over the decades, but it is undeniable that Hispanics have changed the city in many ways.
Naturally, culture clashes have occurred. It is human nature, unfortunately, for tribalism to kick in when "outsiders" show up. And that's true whether it's blacks moving in white neighborhoods, whites moving into Latino neighborhoods, Hispanics moving into black neighborhoods, and so on in every combination of cultural and ethnic diaspora possible.
But again, does the fact that this particular city is a lot more livable than it was thirty years ago mean that the album Straight Outta Compton is a period piece? Hardly — nor is the movie a look back at a distant past that is inconceivable to us.
Events in Ferguson and around the nation are enough to prove that.
The man himself, Ice Cube, says the only change in race relations is that cell phones now exist so that violent confrontations can be filmed.
Somehow, that doesn't make us feel all warm and fuzzy.