I've written before about the fact that people who own guns are more likely to use them on themselves or a loved one than for self-defense.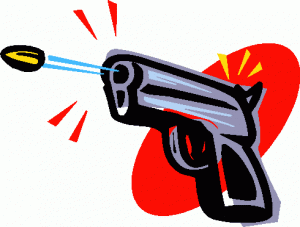 And I've also written before about the tendency of Americans to make up imaginary assailants to cover up their real crimes. Invariably, the fictitious thug is black or Hispanic.
Well, these disparate elements combined this week in Texas, when "police in San Antonio say a group of friends panicked after one of them accidentally shot another in the back, and tried to pin the whole thing on a Hispanic male who never existed."
Apparently, a 19-year-old kid, who had no problem getting a handgun (this is America, after all), was "handling the weapon in a reckless manner when it suddenly went off." One of the ace marksman's friends was hit, and although nobody died, they had to come up with a story when they hit the emergency room.
Naturally, they said a Latino tried to carjack them. The cops, to their credit, didn't buy it, and the teen hotshot has been arrested and charged with aggravated assault with a deadly weapon and evading arrest.
So what have we learned from this fiasco? Well, for starters, it shows that many Americans still believe nothing is more plausible than a Latino or black man popping up out of nowhere to rob and shoot you. But it also shows that this particular racist trope is pretty much played out.
So as service to you readers who trying to cover up your own botched shootings and/or self-inflicted stupidity, let me offer some advice.
You're going to have to get creative when you talk to the cops. That means no more "a big scary Latino guy did it!"
To fool the cops, you need to describe your imaginary assailant as such:
"He was half Chinese, half Finnish, with some black Irish on his mother's side and a smattering of Chilean blood. He was left-handed with a limp, and he had a dueling scar in the shape of a mermaid across his chin. He carried the discrete sadness of enduring multiple heartbreaks, combined with the air of a former military man. His lower-class status belied his bourgouis ambitions, and his racial and ethnic makeup are the perfect encapsulation of America's changing demographics."
Then add, "Oh yeah. And he had a gun. Yup."
Let's see how that one works.