On the surface, there doesn't seem to be much of a Latino connection to the Charlie Hebdo attacks. Oh of course, civilized people everywhere — regardless of color, creed, ethnicity or religion — are horrified and outraged.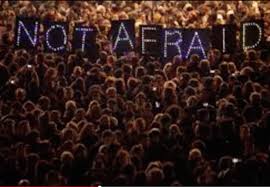 And as a writer who has received hate mail (but thankfully no death threats), I'm in solidarity with those who were targeted for expressing their opinions, even if those opinions were occasionally loathsome.
But again, I didn't see a clear relationship to Hispanics — at least until I caught this nugget on an internet message board from a commentator who inexplicably wished to remain anonymous:
"I never thought I would be grateful for our illegal immigrants. But at least the Mexicans sneaking across our border are Catholics, not Muslims. And they only steal jobs and welfare. They don't blow shit up."
That's high praise indeed. I'm sure we can look forward to more thoughtful analysis like this in the future.
Now if you'll excuse me, I have to get back to helping Mexicans steal jobs and welfare. But remember, we don't blow shit up.