If I haven't mentioned it in the last twenty minutes, I love living in California.
It's not just the sunshine and great food and vibrant nightlife and pop-culture happenings and B-list celebrity sightings (although those are all entertaining). It's that California is one of the most laidback and liberal states, and that tends to align with my personal philosophy — or at least those components of my personal philosophy that are not cribbed from a mishmash of Yoda quotes and baseball-as-life metaphors.
Now, through a weird and comical accident of geography, California shares a border with Arizona, which is not liberal or laidback or anything remotely West Coast cool. It is, of course, home to more than its fair share of right-wing nutjobs and xenophobic lunatics.
Both states have large Hispanic populations. And one recent development illustrates how different these neighboring states really are, and how they view their respective Latinos.
In California, a new law allows undocumented immigrants to apply for special driver's licenses. Some Californians have griped about it, but for the most part, the law's implementation has gone smoothly. And in a sign of forward thinking, car dealers are actively marketing to the new license holders. Many dealers report increased foot traffic on their lots, and they're hoping for a sales boom due to the new law.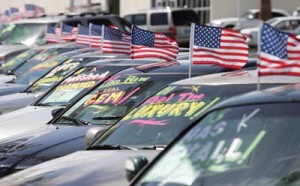 But in Arizona, a similar law hasn't been as, shall we say, well received. In fact, it took a US Supreme Court decision to force Arizona to offer driver's licenses to young immigrants, the Dreamers, who entered the country illegally as children. And while many Dreamers are happy to have the option, many others remain nervous about applying. Some Dreamers have seen family members deported after getting pulled over for routine traffic stops, and they're having trouble letting go of their fear.
So in California, a law that passed with little controversy is poised to make a positive economic impact and make life easier for many people. Meanwhile, in Arizona, a similar law had to be argued all the way to the highest court in the land, at taxpayer expense, before going forward, only to encounter resistance from the people it was designed to help because they are terrorfied of the place they live in.
Yes, I think I chose my state wisely.