When my cousins from El Salvador first came to America, they didn't speak English. Of course, they were kids, so they rapidly learned it. Today, everyone in my family, except for my abuela, embraces English as their primary mode of communication. My cousins' children (and mine) will have to make an effort to be bilingual and not leave Spanish in my family's past.
But other families don't face the dilemma of losing the mother tongue. In fact, about 5 million children in the United States don't speak English as their primary language. This constitutes 9% of all US public school students. Now, that number includes a lot of kids who speak Tagalong or Russian or Mandarin or something else that most of us don't recognize.
But it's fair to say that many of the children who speak English as a second language (ESL) communicate only in Spanish.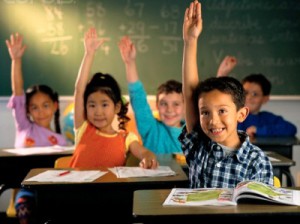 Because we're hearing more Spanish than ever in the country's schools, the Obama administration recently issued the nation's first set of federal guidelines on the rights of ESL students. The guidelines remind school districts across the country of their obligations under the law.
Among other things, all schools must identify ESL students in a timely manner, offer them language assistance and provide qualified staff and resources to help them learn English. In essence, ESL students have the same rights to a quality education as students who speak English, and schools must avoid segregating English learners from other students.
I know this is a shocker to the nativist crowd, but you can't just yell, "Speak English, damn it!" at perplexed kids.
The decision makes clear that students who speak Spanish, or other languages, are becoming more common, and the American educational system has to meet their needs. The Obama guidelines are a welcome indicator of that fact.
Of course, it's a little sad that anyone has to be reminded of this in the first place.