I was a teenager a million years ago.
OK, it was the late 1980s.
In any case, once you cross 40, a lot of your teen memories start to fade, or get augmented in unintentional ways, or just get merged with John Hughes movies.
One truly unpleasant memory that I had not conjured up in years came back to me recently.
The catalyst for this flashback was an article by Sarah Hoye, who wrote about her childhood in Milwaukee, the city that recently suffered a fall-blown race riot and which CNN implied was the worst place in America for black people.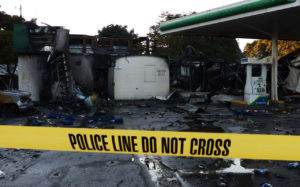 Hoye wrote that "more times than not, when I tell people that I am from Milwaukee, I get a sympathetic head tilt followed by, 'I'm sorry.' And that was before the recent protests."
OK, I relate to that. Because I too am from Milwaukee. And it might pain my Wisconsin crew to know this, but I've often received that exact same "I'm sorry" reaction from people when I mention where I'm from. My hometown's reputation is not a good one.
Now, I haven't lived in Milwaukee since I graduated high school, but I go back often to visit friends and family.
I spent my childhood in the Latino section of town, an enclave on the South Side that is still heavily Hispanic to this day. Yes, I've written about this era and place more than once.
When I was a teenager, we moved to a quasi-suburban area (still within the city's limits), where all of our neighbors had German or Polish or Serbian ancestry. Our house was all the diversity you were getting for many blocks in any direction.
To be clear, I have fond memories of this time. However, even then I knew that all was not right in my city. You see, Milwaukee has long been the most segregated municipality in America. Growing up, I assumed all cities had stark lines separating the ethnicities (and indeed, to some degree, they all do). But I had no idea Milwaukee was such an extreme case.
And this brings me back to the creepy memory that I had long ago shifted to my brain's attic.
No, it's not about the many times I was called spic or wetback or had someone "joke" that I had jumped the border. Hell, I remember those things just fine.
The memory I had forgotten was about my friend J.
I won't use his full name out of respect for his privacy, even though we lost touch after high school, and it's highly unlikely he's reading this right now.
Just in case, however — hey J!
J and I were teammates on our high school football team. We weren't close friends, but we got along well, and one day after practice, I invited him back to my house to play video games.
Later that evening, he walked to the bus stop for the long journey home. Yes, he was African American, and as such, he lived on the North Side — several miles away and a whole other world socioeconomically, politically, culturally, etc.
I kept him company at the bus stop. We were talking the usual teenage shit — girls, school, football — when we noticed a car slow down as it approached us.
I'm sure both of us considered the odds that the car's driver was lost and needed directions, or that the vehicle was stuffed with hot cheerleaders just roaming the city looking for a couple of hunky football players to keep them company.
But come on, we both knew what it was.
As the car passed, a young white man leaned out of the window and yelled, "Fuck you, nigger!"
J rolled his eyes, like he had gone through this a million times already that day, and such bullshit no longer fazed him.
The car stopped at the corner, as if preparing to turn around. J and watched to see what the driver would do. After a moment, the car sped off, leaving us in peace.
J's bus arrived a minute later, and we high-fived, and he left. On my walk home, I realized that I had never, not even for a moment, been afraid that some thugs would jump out of a car and take a swing at me just for being brown.
As I said, I had received my fair share of insults and vague threats. But the real potential of physical violence was alien to me.
After all, it's not like I was black in Milwaukee.
Instinctively, J and I both knew, without discussing it, that a black kid couldn't stand around in that neighborhood for more than a few minutes without someone yelling an epithet at him or the cops being called.
And we just accepted it as normal.
I doubt J even remembers this incident, because it was most likely among the milder forms of verbal abuse that he has received in his life.
Indeed, in Sarah Hoye's article, she writes that "in the Milwaukee I know, I have been called nigger more times than I can count."
Hoye ends her story with a burst of optimism, saying that "I truly believe, as idealistic as it may sound, that there is hope for a city in pain, and hope for a way forward."
I share that hope.