Remember that political party that vowed to make America great again?
No, I'm not talking about that one. I meant the Know-Nothing Party, which has the most pitifully truthful name of any political group in American history.
In any case, the Know-Nothing Party originated in 1849. Its members strongly opposed immigrantion. Their whole thing was about preserving what they felt was the perfect America — one in which (by sheer coincidence) they held positions of power.
Well, it didn't turn out so well for that party, as we know, and it collapsed into disgrace.
And that reminds us of the Republican Party — no, not the current one.
I'm referring to the Republicans of the 1930s. That version of the GOP gave our nation the most horrific piece of legislation with the most hilarious name: the Smoot-Hawley tariff, which helped kicked off a little something called the Great Depression.
Regardless, the 1932 GOP platform boasted that the "restriction of immigration is a Republican policy" and featured unabashed "hostility to almost all immigration." This didn't work out exactly as they hoped, in that it "contributed to the defection of ethnic voters to the Democratic Party and to Democratic dominance of the political scene for more than a generation."
There are other examples of political groups basing their appeal on anti-immigrant feelings, and in every case, this approach has backfired.
Hey, just ask residents of the state I live in, California, why the Republican Party is basically extinct here. It can be traced back to Governor Pete Wilson, who led the GOP on an ill-fated anti-immigration crusade.
You see, anger toward immigrants has never worked — as a political strategy — in American history.
And this brings us back to the current GOP, and its insistence that it will make America great again, which is really just code for this: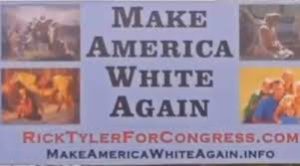 Even if Trump wins the election — a nauseating thought that is mercifully unlikely to happen — the prospects don't look good for the Republican Party in the long term.
Don't take my word for it. GOP strategists have admitted that Republicans "must find a way to appeal to more nonwhite voters" and that "the math is only going to get worse" when it comes to ethnic minorities and immigrants.
Again, every political party that has pushed an anti-immigration agenda has either been obliterated or had to rebrand itself decades later. It has never worked in the long run.
So why would Trump's version of the GOP be any different?