Americans have received more than a fair amount of post-mortem analysis and 20/20 hindsight into how the country got stuck with that malignant clown for president. Despite this, it remains astonishing to note how the media tries to avoid stating the obvious.
For example, CNN recently unveiled its 24 theories why Trump won. Here are a full two dozen rationales — some astute, some questionable — in which the word "bigotry" does not appear.
Yes, a couple of CNN's theories allude to it in euphemistic terms (e.g., "white male resentment"). But the nearest any of its reasons comes to acknowledging real prejudice among Trump supporters is to discount the very idea. In fact, theory #22 clearly states, "Not because of racism."
By the way, the words "misogyny" and "sexism" do not appear on CNN's list at all. So apparently, "Trump that bitch" was just a catchy slogan.
In any case, here we have a major news outlet listing dozens of reasons why Trump emerged victorious, and heaven forbid they acknowledge the well-documented fact that a significant number of Trump supporters are white supremacists. Or perhaps I just imagined that whole thing about the KKK throwing a victory parade.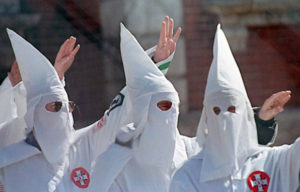 Now, racism certainly wasn't the only reason for Trump's ascendency, and it probably wasn't even the main reason. But to imply that it was no reason at all, and to sidestep this most unpleasant of factors, is disingenuous at best and cowardly at worst.
Another CNN piece states "this election was for the forgotten among the American people…. When Donald Trump came on the scene, for the first time, they had a voice.
Yes, thank god someone is finally speaking up for white men!
However, it is not just CNN that is embracing this soothing narrative that bigotry is miniscule among Trump supporters.
For example, a professor at my alma mater, the University of Wisconsin — Madison, recently published a book based on her months of talking to rural voters of that swing state. In a Washington Post interview about Trump's popularity in the heartland, the professor acknowledged that many of her interview subjects expressed bigoted sentiments, but she quickly dismissed this by stating, "it's not just resentment toward people of color. It's resentment toward elites, city people."
Ah, I see. So to the professor, whenever a Midwestern farmer snapped that blacks are lazy criminals, it was justifiable irritation with all those fancy urban types.
Good thing it wasn't racism.
By the way, I am from Wisconsin and have spent more time in small towns and on dairy farms than the vast majority of "coastal elites." The people there are overwhelmingly polite and hardworking. But yes, I've been slurred a few times. And I assure you that it wasn't because I was too cosmopolitan.
Again, all this dancing around and justifying and flat-out ignoring is jarring to both our knowledge of the world and our sense of decency.
For some delusional reason, we remain deathly afraid of calling out racism in a large swath of people, as if doing so might acknowledge that bigotry still lingers in our "post-racial" society. And we can't have that.
Or maybe we just can't offend white people.
After all, as some writers have noted, "to call out voters for falling for damagingly racist and sexist messages is viewed [as] dangerously snobby by the media, as though working-class people are precious toddlers who must be humored and can't possibly be held responsible for any flawed thinking." We should also be aware that "only the white working classes are accorded this handwringing and insistent media empathy."
It's all about white fragility, which often mixes with a toxic helping of male insecurity. When that happens, we get the idea that "if white men are not living the American Dream the system must be broken. For everyone else, failure is a sign of individual failure, cultural failure, and communal shortcomings, but if white men ain't winning, the game is rigged."
So we remain highly sensitive about making any accusations of prejudice. And we embrace the lie that blatant xenophobia had little to do with Trump winning — anything but that.
By the way, hate crimes against ethnic minorities surged after the election. But I'm sure it was just a coincidence.
To summarize my point on this topic, please allow me to share an email I received the morning after the election. It was from a Trump supporter, identified only as Nmslr1. He had read my articles and was rather displeased with my conclusions.
I have edited his email for length because, quite frankly, it went on and on. But I have not corrected any of the grammatical errors (yes, I'm aware of the irony that this person has a horrific grasp of English).
In any case, here is my fan mail from Nmslr1:
Well, it seems White People have seen and heard about all they are gonna take from the ingrates called hispanics.
Did you really think we were just going to turn the other cheek while you all pilfer our resources and hard work? Did you?
Well you all are going to get whats coming, thats for sure.
The joy! The absolute joy to think we banded together and finally said "enough". The only solution left is to round them up and send them back where the hell they came from.
Oh, and don't forget little ole abuela, poor thing.
Now its our turn to gloat.
Get this straight: your raping, thieving shit cultures will respect our culture when you're on the next bus to the living hell holes you all created and where you all ran from.
Oh, are you an anchor baby? Just to make clear when that insane and abused statute is voided out there will be an amendment to make it retroactive.
Gone. Gone. All gone.